Marilyn Monroe (1926-1962) Model, actress, singer and arguably one of the most famous women of the twentieth century. Monroe has become an iconic representative of fame and female beauty. She is widely regarded as one of the most influential figures in American culture.
"I am good, but not an angel. I do sin, but I am not the devil. I am just a small girl in a big world trying to find someone to love."
—- Marilyn Monroe
Early life
Monroe was born, Norma Jeane Mortenson, in June 1926. Her mother was Gladys Pearl Baker (née Monroe, 1902–84) Her father was unknown and she was baptised as Norma Jeane Baker. Her mother Gladys had a turbulent mental state and struggled to cope with bringing up her children. For the first six years, Marilyn was brought up by foster parents,Albert and Ida Bolender in the town of Hawthorne, California. Her mother then tried to take back Marilyn, but she suffered a mental breakdown and Marilyn was moved between different orphanages and foster homes. The traumatic childhood made her shy and reserved.

Just after her 16th birthday, in 1942, Monroe married her 21-year-old, next-door neighbour Jimmy Dougherty. Marilyn became a housewife, but the couple were not close, and Monroe reports being bored. In 1943, her husband left to join the Merchant Marines to participate in America's War effort. They split up shortly after.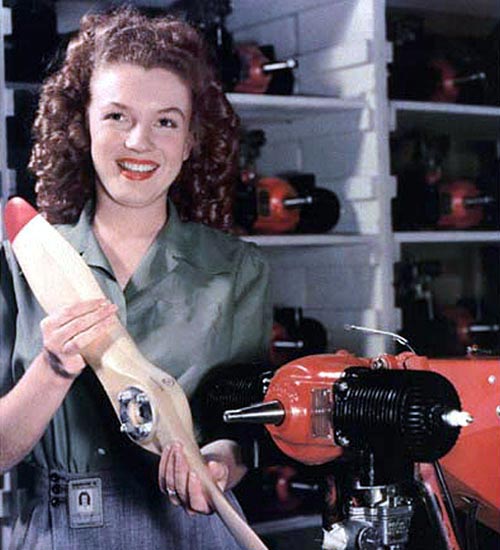 Marilyn Monroe appearing in Yank Army Weekly
Video: The Tragic Life of Marilyn Monroe
To earn a living, Marilyn took a job at a local munitions factory in Burbank, California. It was here that Marilyn got her first big break. Photographer David Conover was covering the munitions factory to show women at work for the War effort. He was struck by the beauty and photogenic nature of Norma, and he used her in many of his photographs. This enabled her to start a career as a model, and she was soon featured on the front of many magazine covers.
Career breakthrough
1946 was a pivotal year for Marilyn, she divorced her young husband and changed her name from, the boring, Norma Baker to the more glamorous Marilyn Monroe (after her grandma). She took drama lessons and got her first movie contract with Twentieth Century Fox. Her first few films were low key, but from these beginnings, it gained her more prominent roles in films such as All About Eve, Niagara and later Gentleman Prefer Blondes and How To Marry A Millionaire.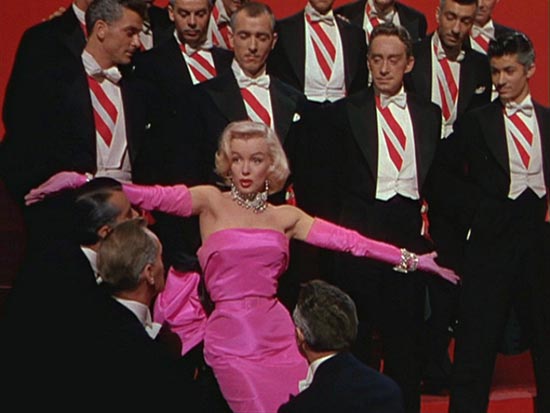 Gentlemen Prefer Blondes Movie Trailer
These successful film roles thrust her into the global limelight. She became an iconic figure of Hollywood glamour and fashion. She was an epitome of sensuality, beauty and effervescence and was naturally photogenic. But she often found the trappings of fame difficult to deal with.
"When you're famous you kind of run into human nature in a raw kind of way. It stirs up envy, fame does. People you run into feel that, well, who does she think she is, Marilyn Monroe? They feel fame gives them some kind of privilege to walk up to you and say anything to you, of any kind of nature — and it won't hurt your feelings — like it's happening to your clothes not you."
– Marilyn Monroe (A Life of the Actress, 1993)
In 1954, she married baseball star Joe DiMaggio, a friend of over two years. Monroe was now one of the biggest box-office draws of Hollywood, but her contract, negotiated in 1950, left her paid less than other stars. Also, Monroe didn't wish to be typecast as a 'blonde bombshell' – just playing simple roles in comedies and musicals. In a dispute over pay and choice of acting, she was temporarily suspended by 20th Century Fox, but eventually, they acceded to some of Monroe's demands and gave her higher pay. In September 1954, she starred in The Seven Year Itch, which was released to widespread media interest – after a successful media stunt on Lexington Avenue, New York.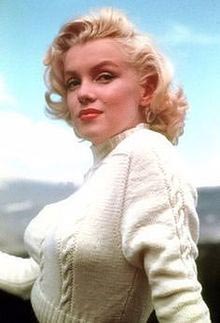 In 1955, she sought greater independence from Fox, and began her own movie production and began studying method acting. Despite the media often being dismissive of Monroe's potential, her efforts to improve acting paid off, and later films received critical acclaim for her wider scope of acting. She was nominated for Golden Globe Best Actress Award for Bus Stop (1956). In 1959, she won a Golden Globe for her role in 'Some Like It Hot'.
Video: Marilyn Monroe - Hollywood Icon & Greatest Sex Symbol Of All Time | Mini Bio | BIO
Her relationship with Joe DiMaggio was quickly strained, due to his jealous and controlling nature. Monroe soon filed for divorce, though the couple retained a friendship despite the divorce. Monroe began dating playwright Arthur Miller and in 1956 married. To get married, Monroe converted to Judaism. The marriage received significant media interest for the combination of Miller the left-wing intellectual and Monroe, the perceived 'dumb blonde'. The marriage was sometimes referred to, rather unkindly, as "Egghead Weds Hourglass".
To complicate matters, Miller was under investigation for his alleged "Communist sympathies", and media bosses encouraged Monroe to end the relationship, but Monroe was unmoved. The FBI opened a file on her, worried about the political views of her husband.
In the late 1950s, and early 1960, her health began to deteriorate. She suffered from a Barbiturate addiction and experienced periods of depression. Her marriage to Miller broke down, and she had affairs with Yves Montand, Frank Sinatra and others. During the 1960s, her ill health made shooting films challenging, and production was often delayed. She was still in great demand and often appeared on the front cover of glossy magazines. In 1962, she was invited to the White House to sing for J.F. Kennedy's birthday.
Death and legacy
Tragically, she died early from an overdose of barbiturates in 1962 aged just 36.
Although Monroe cultivated an image of the 'dumb blonde' – in fact, her image and persona was something she took care to cultivate and develop – through the media and the strength of her acting. Although many were dismissive at the time, she took on the powerful Hollywood studio system and, against expectations, developed her acting career with her own intentions. However, behind her confident public persona, she struggled with relationships and resorted to a heavy drug use, which had a damaging impact on both her mental and physical health. In one sense, Monroe lived the American dream – rising from anonymity to become a famous actress, but it was a dream tinged with sadness for fame did not bring peace of mind or happiness.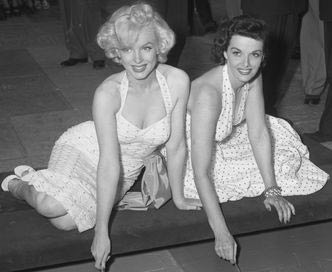 Citation: Pettinger, Tejvan. "Biography of Marilyn Monroe", Oxford, www.biographyonline.net, Published 1st December 2009. Updated 10th February 2018.
Marilyn Monroe – My Story
Video: Marilyn Monroe Biography in English | Famous Actresses
Marilyn Monroe – My Story at Amazon
Marilyn Monroe – Fragments: Poems, Intimate Notes, Letters
Marilyn Monroe – Fragments: Poems, Intimate Notes, Letters at Amazon
Related pages
Women who changed the world – Famous women who changed the world. Features female Prime Ministers, scientists, cultural figures, authors and royalty. Includes; Princess Diana, Marie Curie, Queen Victoria, and Catherine the Great.
Actors – Famous actors, including Alec Guinness, Katherine Hepburn, Audrey Hepburn and Grace Kelly.
Americans – Great Americans from the Founding Fathers to modern civil rights activists. Including presidents, authors, musicians, entrepreneurs and businessmen. Featuring Thomas Jefferson, Abraham Lincoln, Madonna, Oprah Winfrey.
Female biographies – A list of 100 famous women from Sappho and Cleopatra to Marilyn Monroe and Angela Merkel.
Video: Mini Bio - Marilyn Monroe
We use cookies on our website to collect relevant data to enhance your visit.
Our partners, such as Google use cookies for ad personalization and measurement. See also: Google's Privacy and Terms site
By clicking "Accept All", you consent to the use of ALL the cookies. However, you may visit "Cookie Settings" to provide a controlled consent.
You can read more at our privacy page, where you can change preferences whenever you wish.
Video: The Tragic Real-Life Story Of Marilyn Monroe
FAQs
Marilyn Monroe was born Norma Jeane Mortenson in Los Angeles and later took her mother's surname, Baker. Her mother was frequently confined in an asylum, and Norma Jeane was reared by 12 successive sets of foster parents and, for a time, in an orphanage.
6 of the Best Books About Marilyn Monroe
The Girl: Marilyn Monroe, The Seven Year Itch, and the Birth of an Unlikely Feminist by Michelle Morgan. ...
Marilyn Monroe: The Private Life of a Public Icon by Charles Casillo. ...
Fragments: Poems, Intimate Notes, Letters by Marilyn Monroe by Stanley Buchthal and Bernard Comment.
Marilyn Monroe (born Norma Jeane Mortenson; June 1, 1926 – August 4, 1962) was an American actress, singer, and model. Famous for playing comedic "blonde bombshell" characters, she became one of the most popular sex symbols of the 1950s and early 1960s and was emblematic of the era's sexual revolution.
40 Marilyn has some of the most memorable quotes.
Marilyn Monroe went to an orphanage when she was nine years old. ...
Marilyn Monroe was discovered in a factory. ...
Monroe went by many names. ...
Monroe's talent manager at Fox Studios gave her the now-popular screen name. ...
Marilyn Monroe is a popular sex symbol.
My Story is an unfinished autobiography, written by actress and starlet Marilyn Monroe, describes her early adolescence, her rise in the film industry from bit player to celebrity, and her marriage to Joe DiMaggio.
Marilyn Monroe was an American actress, comedienne, singer, and model. She became one of the world's most enduring iconic figures and is remembered both for her winsome embodiment of the Hollywood sex symbol and her tragic personal and professional struggles within the film industry.
Marilyn Monroe was an avid reader. The 430 books found in Marilyn Monroe's library contained a vast variety of subjects and genres. Marilyn Monroe said, "If I play a stupid girl and ask a stupid question, I've got to follow it through, what am I supposed to do, look intelligent?"
Monroe also had very much wanted to have a baby with Miller, but it's well-documented that she she suffered two miscarriages and an ectopic pregnancy.
However, a series of unfortunate events prompted things to take a turn for the worse in the fall of 1933. First, Baker learned that her 13-year-old son Jackie, taken from her as an infant, had died of kidney disease, resulting in mom lashing out at Monroe for being the one to live.
Acting in these iconic films would produce Marilyn Monroe's signature makeup look, which would, without a doubt, have an influence on women's beauty standards. Marilyn had long eyelashes, a long eyeliner-winged-look, volumsciuos red lips, and glowing skin.
"Every night I stop at the market near my hotel and pick up a steak, lamb chops or some liver, which I broil in the electric oven in my room. I usually eat four or five raw carrots with my meat, and that is all.
Marilyn Monroe Is Found Dead

On the phone, she ended their last conversation by saying, "Say goodbye to Pat [Lawford's wife]. Say goodbye to the president. And say goodbye to yourself because you're a nice guy."
In Bret's words, Monroe was "flatulent, dirty, and ate in bed." Like Kelly Clarkson, she tended to eschew underpants. In addition, according to Bret "she rarely bathed, slept in the nude, and ate a lot in bed — shoving what was left on her plate under the sheets before going to sleep" (via Thought Catalog).
She was far from dumb, although she was not formally educated, and she was very sensitive about that. But she was very smart indeed – and very tough. She had to be both to beat the Hollywood studio system in the 1950s.
The Hollywood icon passed away on August 4, 1962, aged 36, but if she were alive in 2022, she would be 96 years old, the same age as Queen Elizabeth II. The coroner's toxicology report at the time stated that Marilyn Monroe had died as a result of acute barbiturate poisoning.
The Marilyn Diptych (1962) is a silkscreen painting by American pop artist Andy Warhol depicting Marilyn Monroe.
...

Marilyn Diptych
Year
1962
Medium
Acrylic paint on canvas
Dimensions
205.44 cm × 289.56 cm (80.88 in × 114.00 in)
Location
Tate
2 more rows